A SON records interviews with his Holocaust-survivor father.

Not only does he discover a story of survival against overwhelming odds, but also how their relationship is to change forever.

A true story by Sydney lawyer Tony Laumberg – who lays bare his family story – The Lucky One opens at NIDA's Parade Studio on March 3.

It recreates events in the life of a Jewish doctor during the German occupation of Poland. It follows him on the run from the Gestapo after he flees the Warsaw Ghetto, and finally to a new life in Australia.

The play has been authenticated by the Sydney Jewish Museum (which is selling tickets), and Moriah College has booked a performance at its auditorium following the NIDA season.

The play features David Ritchie (Rafferty's Rules, Othello) and Scott Agius (Young Lions, Julius Caesar).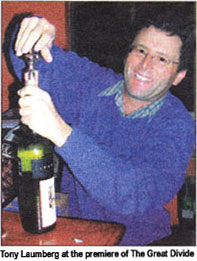 Laumberg is the author of two hit plays, Unsolicited Male and The Great Divide, and writer and producer of six short films, including being the Comedy Channel short film finalist in 2002.
____________________________

The Lucky One, Parade Studio, Kensington,
March 3-28.
Preview performance at Hakoah on February 28.

THE AUSTRALIAN JEWISH NEWS
Friday, February 20, 2004